Ad blocker interference detected!
Wikia is a free-to-use site that makes money from advertising. We have a modified experience for viewers using ad blockers

Wikia is not accessible if you've made further modifications. Remove the custom ad blocker rule(s) and the page will load as expected.
Bas Rutten
Personal information
Nickname
"El Guapo"
Born
February 24, 1965
Tilburg, Netherlands
Nationality
Dutch
Listed height
6 ft 1 in
Listed weight
214 lbs
Career information
Division
Light Heavyweight
Heavyweight
Style
Kickboxing
Kyokushin Karate
Fought out of
Los Angeles, California
Years active
1993-2006
MMA record
Wins
28
Loses
4
Sebastiaan Rutten, more commonly known as Bas Rutten, and also known as El Guapo, is a retired Dutch-American mixed martial artist and kickboxer. Born February 24, 1965 in Tilburg, Netherlands, Rutten began his martial arts career as a Thai boxer where he eventually became the number two ranked boxer in Holland. Eventually Rutten transitioned to mixed martial arts, fighting all of his fights in Pancrase and then making the switch to the Ultimate Fighting Championship in 1999. Rutten's accomplishments include being the fourth UFC Heavyweight Champion, a three time King of Pancrase world champion, and for having finished his career on a twenty-two fight unbeaten streak (21 wins, 1 draw). Rutten has beaten many other MMA champions over the course of his career, including wins over UFC champions Frank Shamrock, Kevin Randleman, Guy Mezger and Maurice Smith, and wins over King of Pancrase world champions Masakatsu Funaki and Minoru Suzuki. He is currently the co-host of Inside MMA on HDNet.
As a fighter, one of his favorite tactics was the liver shot (both punch and kick), and he popularized its use in MMA. Rutten is known for his charisma and has capitalized on his celebrity since retiring from fighting in 1999. He has worked as a colour commentator in several MMA organizations, including PRIDE Fighting Championships, and has appeared in numerous television shows, movies, and video games. He also coaches MMA and has authored several instructional materials.
Biography
Edit
Early life
Edit
Rutten was born in Tilburg, Netherlands and became interested in martial arts at the age of eleven after watching Enter the Dragon.[1] His conservative parents didn't allow him to pursue it at first. He started to train boxing at the backyard of an elementary school friend. He eventually started to train in Tae Kwon Do. He was very committed and eventually earned a 2nd degree Black Belt. He then began learning Kyokushin Karate, and earned a 5th degree Black Belt.
In high school, he was not big and strong and had a skin condition on his hands for which he was bullied occasionally. But years later he attended his high school reunion as a decorated fighter and issued a friendly challenge to fight his former tormentors, which they declined.[2]
Martial arts career
Edit
Thai boxing in Holland
Edit
At the age of 20 he started competing in Thai boxing. He fought 15 times and won the first 14, all by knockout in the first round. He was TKO'd in his final fight.[1]
Pancrase
Edit
Rutten then began his professional mixed martial arts career with the Pancrase organization in Japan. In 1993, Japanese pro wrestlers Masakatsu Funaki and Minoru Suzuki traveled to Holland to scout fighters for their new "hybrid wrestling" (Bushido wrestling) organization, featuring submission fighting, but with no closed fisted strikes to the face. A precursor to what would become modern mixed martial arts, the organization was the first of its kind, and featured such early MMA names as Frank Shamrock, Vernon White, Maurice Smith, Ken Shamrock, and Guy Mezger.
His lack (at that time) of ground-fighting experience led to early defeats at the hands of Masakatsu Funaki and the then King of Pancrase Ken Shamrock, and more controversially losing to Frank Shamrock by way of a split judge's decision. Rutten would come back in 1995 and be dealt another loss from King of Pancrase Ken Shamrock, but would go on to beat the previously undefeated Minoru Suzuki and win his first King of Pancrase title. After putting his title defenses on hold due to an injury, Rutten returned to the ring and beat interim King of Pancrase Frank Shamrock for the undisputed King of Pancrase title.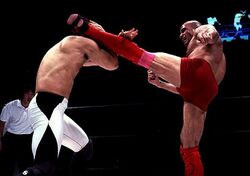 Rutten then avenged his loss to MMA legend Masakatsu Funaki in 1996 in what is considered to be one of the greatest fights in Pancrase history. Rutten described the war with Funaki in an interview: "Before the fight when he came to me, he made that thumb over the neck, throat slashing motion like I was going to go down. I turned to my manager and said, "Okay, now I'm going to kill this guy, you watch". My game plan was to keep the fight going for 15 minutes...Funaki had never fought above 15 minutes. But then, like 12 minutes into it, while I'm still on my knees he kicks me in the head. I block, but for me that was an illegal thing to do. So right away I start, BANG, BANG, BANG, and he goes down. From that moment on, I totally destroyed him. You got to see the fight; it was a massacre. My palms were black from hitting him so hard. He had the gods on his side or something, because he stood up every time. I hit his face back on the mat and you hear it slam into the mat. His nose is all the way to the side, broke, they have to straighten it out. I go, "Oh my God, this guy can take a shot!" I kneed him so hard in the head. He went down four times. But the last knee I gave to him was like everything I had. I grabbed him by the head and kneed him. It was really like a Rocky movie. I'm standing there and I fall backwards, and I'm totally out of breath. I get up and the referee holds my hand up. Then he lets my hand go and I drop again, BOOM! I was exhausted, I gave everything I had; I really wanted to destroy him. I broke his cheekbones and broke his nose, just because he said he was going to kill me. Oh, I was so angry at him. But afterwards, friends again...what a crazy sport this is, huh?" [3]
Rutten then went on to defend his title against both Jason Delucia and Guy Mezger and in so doing became a three time King of Pancrase. In 1996, he relinquished his title in order to be present for the birth of his second daughter.[1] Rutten returned to Pancrase, taking 8 more victories, bringing his unbeaten streak up to 19 straight fights.
Rutten left Pancrase as one of the most dominant fighters in the history of the organization. MMA legend Ken Shamrock was the only fighter in Rutten's career which did not avenge his losses to. In 2000, when Rutten was PRIDE FC's color commentator, a third fight with Shamrock was entertained. Rutten agreed to come out of retirement if it would be against Shamrock in a fight in PRIDE FC. However, Shamrock stated that he already beat Rutten twice and that a third time wasn't necessary. Later, in 2002, Rutten said that he would not want to fight Shamrock again even if it was offered to him because of the friendship they developed over the years, and that he would not be able to put his mind and heart into fighting Ken.[4]
Ultimate Fighting Championship
Edit
In 1998, Rutten signed with the Ultimate Fighting Championship, the biggest MMA promotion in the United States. His first fight in the UFC was against Tsuyoshi Kohsaka at UFC 18, which Rutten won by KO. Next he faced Kevin Randleman for the UFC Heavyweight Championship at UFC 20. After initially taking a lot of punishment from his guard, Rutten landed a devastating liver kick to Randleman's body to turn the tide of the fight. Rutten then pounded away at Randleman from inside his guard, using elbows to open up cuts on top of Randleman's head and punching Randleman to the face. This fight went into overtime, with Rutten taking a close decision victory to become the UFC Heavyweight Champion. This fight also became infamous for Mark Coleman's instructions to Randleman before the second overtime, advising Randleman to "smear the blood" from Rutten's cut on the bridge of his nose into his eye so he couldn't see. Rutten vacated the title later in the year, in order to drop down to middleweight (now known as light heavyweight) a weight closer to his natural weight, in a bid to try and become the first person to hold a UFC title in two weight classes.[1]
Retirement
Edit
While training for his next UFC fight in 1999, Rutten suffered multiple serious injuries, including blowing out his knee (a long running injury), and tearing his biceps. He was forced to retire from MMA competition for the time being, by doctors orders.[1]
During his MMA career he became known for two particular things: his fondness of liver shots and his habit of doing a "Rutten Jump" (jumping split) after winning a fight.[1]
Post-retirement
Edit
After his retirement from fighting in 1999, Rutten focused on becoming an actor, getting small parts on TV shows such as Martial Law, 18 Wheels of Justice, The King of Queens, and the Canadian series Freedom, as well as appearing in low budget movies such as Shadow Fury, The Eliminator, and the comedy short The Kingdom of Ultimate Power which was featured in the 2005 L.A. Film Festival. It also won the first prize at the short film festival in NY for "best comedy".
Rutten wrestled a few times for NJPW from 2000 to 2002, including an IWGP title shot against Yuji Nagata, which he lost.
Rutten was also the color commentator for the English productions of Pride Fighting Championships events, calling nearly every event from Pride 1 through the 2005 Middleweight Grand Prix. Known for his sense of humour and first hand knowledge of the sport, Rutten quickly became a fan favourite commentator. In April 2006 he announced that he would not continue to announce for Pride, due to the constant flying to Japan, and being away from his family every month.[5]
Rutten has a cameo in the video game "Grand Theft Auto IV" on the in-game TV show called "The Men's Room."[6] He also did motion capture for the main character's fighting moves. He said that when he arrived at the motion-capture place in New York he asked the people in charge how violent they wanted to have it and they told him to "give it all he got". After two hours they stopped him and said, "It's OK, you don't have to go any further".[7]
He was also featured in WCW vs. the World for the Playstation, but was named "Thunder Dome" to avoid copyright laws.
On January 23, 2008, he was announced as the new Vice President, Fighter Operations reporting directly to IFL CEO Jay Larkin. His role was to build relations between the IFL and its fighters as well as work on potential match-ups between fighters. He also hosted the weekly shows "Battleground" and "International Fight League" with Kenny Rice. This all ended when IFL went out of business in late 2008.
Currently, he and Rice host Inside MMA, a weekly MMA variety show on HDNet. The pair also did remote English commentary and play-by-play for DREAM events broadcast in North America on HDNet. The pair was eventually replaced by Guy Mezger and Michael Schiavello, who attend the events live in Japan. He is currently appearing in public health service ads, airing on Cartoon Network.
In late 2009, Rutten was rumoured to be in the running for a cameo role in the new Steven Seagal feature film, "Roses Are Red, Violence Is Blue", due for release in February, 2011.
Coach and trainer
Edit
He is certified as an instructor of both MTBN Thai Boxing and Pancrase.
Rutten coached Mark Kerr during the filming of the HBO documentary The Smashing Machine.
In 2006 Rutten was tapped to coach a team for the International Fight League, an MMA organization that focused on team combat. His team, the Anacondas, defeated the Silverbacks 3–2.
Rutten is an investor in the Legends MMA gym in Hollywood and teaches there occasionally.[8]
He also trained former street fighter Kimbo Slice for his professional MMA bouts.
Return to competitive MMA
Edit
On May 2006, Rutten announced his return to MMA competition. Cleared by doctors to fight again, Rutten was slated to face Kimo Leopoldo in the now defunct World Fighting Alliance on July 22, 2006, at The Forum in Los Angeles. Two days before the event, Kimo tested positive for Stanozolol, an anabolic steroid. In place of Kimo, Rutten fought Ruben Villareal. Rutten took a first-round victory by way of technical knockout after low kicks left his opponent unable to stand. With that he brought up his professional record to 28 wins 4 losses and 1 draw.
Personal life
Edit
Rutten currently lives in Westlake Village, California with his second wife Karin and two daughters, Sabine (pronounced Sa-bee-nuh) and Bianca. He has another daughter, Rachel (pronounced Rah-SHEL), who lives with his ex-wife in the Netherlands.[2]
Rutten got the nickname "El Guapo", which means "The Handsome One" in Spanish, after having breakfast in Japan with a table full of fighters. At the table he was talking to Tina Shamrock, Ken Shamrock's ex-wife, who was also present and is from Mexican decent. When Rutten asked what "El Guapo" meant, she told him it was "The handsome one". When fighters like Kevin Randleman left the table, they told Rutten, "See you later Guapo". Rutten stated that from that moment on other fighters started calling him "El Guapo", and the nickname was born. Rutten recently became a citizen of the United States.
Tattoo explanations
Edit
Rutten has several tattoos, each of which is intended to help him spiritually and emotionally:
Source:  Black Belt Magazine, "Bas Rutten: Exclusive Interview"
Attribution:  Edward Pollard; Interview with Bas Rutten

"Everything has a meaning to me. I've got a symbol for the Year of the Snake, all these tattoos on the side of my knees and elbows are all to calm me down. I really believe in those kinds of spirits. I have my daughters' names on my wrists. In my right palm I have a qi or chi symbol which means life energy—and after I put that one on, I never lost a fight. Since [for some reason] I thought I was going to die soon, I put xiao on the other one, which means "long life." On my forearm I have a really cool samurai logo that I put on in a special place in Japan. It stands for "family." On my left arm is the sign of a Buddhist who protects all the people born in the Year of the Snake. A long time ago I put furoshin on my hand and that means "A spirit of unshakable calmness." So whatever stressful situation I get in, it helps me keep focused and relaxed."

This work is copyrighted. The individual who transcribed this work asserts that it qualifies as fair use of the original material under the necessary copyright laws.
Filmography
Edit
Championships and awards
Edit
MMA record
Edit
Professional record breakdown
35 
28 wins
4 losses
By knockout
12
0
By submission
13
3
By decision
3
1
Draws
1
| Result | Record | Opponent | Method | Event | Date | Round | Time | Location | Notes |
| --- | --- | --- | --- | --- | --- | --- | --- | --- | --- |
| Win | 28-4-1 |  Ruben Villareal | TKO (Leg kicks) | WFA: King of the Streets | July 22, 2006 | 1 | 3:24 |  Los Angeles, California | Return from retirement |
| Win | 27-4-1 |  Kevin Randleman | Decision (Split) | UFC 20: Battle for the Gold | May 7, 1999 | 1 | 21:00 |  Birmingham, Alabama | Wins the UFC Heavyweight Championship; retires due to training injuries several months later. |
| Win | 26-4-1 |  Tsuyoshi Kohsaka | TKO (Strikes) | UFC 18: The Road to the Heavyweight Title | January 8, 1999 | 1 | 14:15 |  Kenner, Louisiana | |
| Win | 25-4-1 |  Kengo Watanabe | TKO (Lost points) | Pancrase: 1998 Anniversary Show | September 14, 1998 | 1 | 2:58 |  Yokohama, Kanagawa | |
| Win | 24-4-1 |  Keiichiro Yamamiya | Submission (Rear naked choke) | Pancrase: Alive 11 | December 20, 1997 | 1 | 4:58 |  Yokohama, Kanagawa | |
| Win | 23-4-1 |  Osami Shibuya | Submission (Body Crunch) | Pancrase: 1997 Anniversary Show | September 6, 1997 | 1 | 3:15 |  Urayasu, Chiba | |
| Win | 22-4-1 |  Takaku Fuke | Submission | Pancrase: Alive 7 | June 30, 1997 | 1 | 4:28 |  Hakata, Fukuoka | |
| Win | 21-4-1 |  Kiuma Kunioku | Decision (Lost points) | Pancrase: Alive 4 | April 27, 1997 | 1 | 15:00 |  Urayasu, Chiba | |
| Draw | 20-4-1 |  Osami Shibuya | Draw | Pancrase: Alive 3 | March 22, 1997 | 1 | 15:00 |  Nagoya, Aichi | |
| Win | 20-4 |  Manabu Yamada | Submission (Toe hold) | Pancrase: Truth 7 | October 8, 1996 | 1 | 0:54 |  Nagoya, Aichi | |
| Win | 19-4 |  Masakatsu Funaki | TKO (Lost points) | Pancrase: 1996 Anniversary Show | September 7, 1996 | 1 | 17:05 |  Urayasu, Chiba | |
| Win | 18-4 |  Jason Delucia | TKO (Liver Shot) | Pancrase: Truth 6 | June 25, 1996 | 1 | 8:48 |  Fukuoka, Japan | |
| Win | 17-4 |  Frank Shamrock | TKO (Cut) | Pancrase: Truth 5 | May 16, 1996 | 1 | 11:11 |  Tokyo, Japan | |
| Win | 16-4 |  Katsuomi Inagaki | Submission | Pancrase: Truth 4 | April 8, 1996 | 1 | 14:07 |  Tokyo, Japan | |
| Win | 15-4 |  Guy Mezger | Submission | Pancrase: Truth 2 | March 2, 1996 | 1 | 19:36 |  Kobe, Hyogo | |
| Win | 14-4 |  Ryushi Yanagisawa | Submission (Choke) | Pancrase: Eyes Of Beast 7 | December 14, 1995 | 1 | 27:35 |  Sapporo, Hokkaido | |
| Win | 13-4 |  Maurice Smith | Submission (Choke) | Pancrase: Eyes Of Beast 6 | November 4, 1995 | 1 | 4:34 |  Yokohama, Kanagawa | |
| Win | 12-4 |  Minoru Suzuki | Submission (Guillotine Choke) | Pancrase: 1995 Anniversary Show | September 1, 1995 | 1 | 15:35 |  Tokyo, Japan | Won King of Pancrase title; vacated title in October due to family-related reasons |
| Win | 11-4 |  Frank Shamrock | Decision (Split) | Pancrase: 1995 Neo-Blood Tournament Second Round | July 23, 1995 | 1 | 15:00 |  Tokyo, Japan | |
| Win | 10-4 |  Jason Delucia | Submission (Toe Hold) | Pancrase: Eyes Of Beast 5 | June 13, 1995 | 1 | 1:32 |  Sapporo, Hokkaido | |
| Win | 9-4 |  Maurice Smith | Submission (Kneebar) | Pancrase: Eyes Of Beast 4 | May 13, 1995 | 1 | 2:10 |  Urayasu, Chiba | |
| Win | 8-4 |  Takaku Fuke | Submission (Heel Hook) | Pancrase: Eyes Of Beast 3 | April 8, 1995 | 1 | 1:52 |  Nagoya, Aichi | |
| Loss | 7-4 |  Ken Shamrock | Submission (Kneebar) | Pancrase: Eyes Of Beast 2 | March 10, 1995 | 1 | 1:01 |  Yokohama, Kanagawa | For King of Pancrase title |
| Win | 7-3 |  Manabu Yamada | Submission (Side Choke) | Pancrase: Eyes Of Beast 1 | January 26, 1995 | 1 | 1:05 |  Nagoya, Aichi | |
| Loss | 6-3 |  Frank Shamrock | Decision (Majority) | Pancrase: King of Pancrase Tournament Opening Round | December 16, 1994 | 1 | 10:00 |  Tokyo, Japan | |
| Win | 6-2 |  Jason Delucia | Submission (Guillotine Choke) | Pancrase: Road To The Championship 5 | October 15, 1994 | 1 | 1:43 |  Tokyo, Japan | |
| Loss | 5-2 |  Ken Shamrock | Submission (Rear Naked Choke) | Pancrase: Road To The Championship 3 | July 26, 1994 | 1 | 16:42 |  Tokyo, Japan | |
| Win | 5-1 |  Minoru Suzuki | KO | Pancrase: Road To The Championship 2 | July 6, 1994 | 1 | 3:43 |  Amagasaki, Hyogo | |
| Win | 4-1 |  Yoshiki Takahashi | TKO (Broken Shin) | Pancrase: Road To The Championship 1 | May 31, 1994 | 1 | 1:37 |  Tokyo, Japan | |
| Win | 3-1 |  Vernon White | Submission (Guillotine Choke) | Pancrase: Pancrash! 3 | April 21, 1994 | 1 | 1:16 |  Osaka, Japan | |
| Loss | 2-1 |  Masakatsu Funaki | Submission (Toehold) | Pancrase: Pancrash! 1 | January 19, 1994 | 1 | 2:58 |  Yokohama, Kanagawa | |
| Win | 2-0 |  Takaku Fuke | KO | Pancrase: Yes, We are Hybrid Wrestlers 2 | October 14, 1993 | 1 | 2:03 |  Nagoya, Aichi | |
| Win | 1-0 |  Ryushi Yanagisawa | KO | Pancrase: Yes, We are Hybrid Wrestlers 1 | September 21, 1993 | 1 | 0:43 |  Urayasu, Chiba | |
Notes and references
Edit
See also
Edit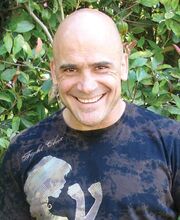 External links
Edit