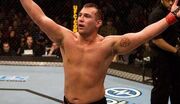 David Alan Heath (born February 10, 1976) is an American mixed martial artist who formally competed in the light heavyweight division of the Ultimate Fighting Championship, where he made his debut at UFC 62, defeating Cory Walmsley by first-round submission. Heath extended his UFC record to 2–0 in December 2006 in a victory over Canadian Victor Valimaki at UFC Fight Night 7 in San Diego.
Heath lost to Lyoto Machida at UFC 70, and was a replacement for Machida's original opponent, Forrest Griffin, who withdrew from the bout due to a nagging staph infection.
MMA career
Edit
UFC 74 controversy
Edit
Heath fought Renato Sobral at UFC 74. Sobral defeated Heath by anaconda choke in the second round. Sobral continued to hold the choke for four seconds after Heath tapped out, which is illegal, and ignored the commands of referee Steve Mazzagatti, who tried to physically break the hold. Renato stated during the post-fight interview that "He (Heath) has to learn respect. He deserved that. He called me 'motherfucker'." Sobral also disregarded the boos from the over 11,000 fans, saying "The crowd didn't like it? Who cares? At least they had a reaction."[1]
MMA record
Edit
14–6–0 (wins–losses–draws)
Record
Result
Opponent
Method
Event Title
Date
Round
Time
Location
14–6
Win
Jason Freeman
KO (Head Kick)
FCF – Freestyle Cage Fighting 38
2010-01-20
1
4:18
Tulsa, Oklahoma, US
13–6
Loss
Mike Nickels
Submission (Rear Naked Choke)
MFC 22: Payoff
2009-10-02
3
4:02
Enoch, Alberta, Canada
13–5
Win
Wayne Cole
KO (Punch)
FCF – Freestyle Cage Fighting
2009-08-08
2
2:42
Oklahoma, US
12–5
Win
Shawn Dezee
KO (Punches)
FCF – Freestyle Cage Fighting
2009-06-27
1
2:47
Durant, Oklahoma, US
11–5
Loss
Travis Galbraith
Decision (Split)
MFC 21: Hard Knocks
2009-05-15
3
5:00
Enoch, Alberta, Canada
11–4
Win
Roger Hollett
Submission (Guillotine Choke)
MFC 20: Destined for Greatness
2009-02-20
1
1:58
Enoch, Alberta, Canada
10–4
Loss
Emanuel Newton
Submission (Rear Naked Choke)
MFC 18: Famous
2008-09-26
2
1:19
Enoch, Alberta, Canada
10–3
Win
Shepard Owens
TKO (Punches)
Freestyle Cage Fighting
2008-06-14
1
1:19
Shawnee, Oklahoma, US
9–3
Loss
Tim Boetsch
TKO (Strikes)
UFC 81: Breaking Point
2008-02-02
1
4:52
Las Vegas, Nevada, US
9–2
Loss
Renato Sobral
Submission (Anaconda Choke)
UFC 74: Respect
2007-08-25
2
3:30
Las Vegas, Nevada, US
9–1
Loss
Lyoto Machida
Decision (Unanimous)
UFC 70: Nations Collide
2007-04-21
3
5:00
Manchester, England, UK
9–0
Win
Victor Valimaki
Decision (Split)
UFC Fight Night 7
2006-12-13
3
5:00
San Diego, California, US
8–0
Win
Cory Walmsley
Submission (Rear Naked Choke)
UFC 62: Liddell vs. Sobral
2006-08-26
1
2:32
Las Vegas, Nevada, US
7–0
Win
Sean Salmon
Submission
FF 5: Korea vs USA
2006-07-15
1
0:50
McAllen, Texas, US
6–0
Win
Rob Wince
TKO (Doctor Stoppage)
FCF: Clash of the Titans
2006-06-30
2
5:00
Tulsa, Oklahoma, US
5–0
Win
Chase Watson
Submission (Armbar)
EFL: Battle at the Brady 4
2006-05-20
1
1:40
Tulsa, Oklahoma, US
4–0
Win
Rudy Lindsey
Submission
EFL – Extreme Fighting League
2006-03-19
1
1:40
Tulsa, Oklahoma, US
3–0
Win
Doug Sour
TKO (Punches)
KOTC: Dayton
2004-10-23
1
N/A
Concho, Oklahoma, US
2–0
Win
Rob Webb
Decision
EFL 12 – Extreme Kickboxing 12
2004-05-16
3
5:00
Dayton, Ohio, US
1–0
Win
Adam Gregg
TKO (Referee Stoppage)
Rock and Rumble 1
2003-04-26
2
N/A
Tulsa, Oklahoma, US
References
Edit
External links
Edit

Template:US-martialart-bio-stub Template:Mixedmartialart-bio-stub
Ad blocker interference detected!
Wikia is a free-to-use site that makes money from advertising. We have a modified experience for viewers using ad blockers

Wikia is not accessible if you've made further modifications. Remove the custom ad blocker rule(s) and the page will load as expected.