Don Frye
Personal information
Nickname
The Prededor
Born
November 23, 1965
Birthplace
Sierra Vista, Arizona
Nationality
American
Height
6 ft 1
Weight
219 lbs
Career information
Division
Heavyweight
Style
Boxing, Judo, Wrestling
Fought out of
Arizona
Team
Team Frye
Years active
1996-1997, 2001-2009
Mixed martial arts record
Wins
20
Losses
8
Draws
1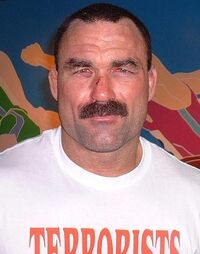 Don Frye, also known as The Predator, is a retired American professional mixed martial arts fighter, actor, and professional wrestler. Frye rose to fame fighting in early Ultimate Fighting Championship events, winning the UFC 8 and Ultimate Ultimate 1996 tournaments. Frye is also known for his bouts in Pride Fighting Championships.
Ad blocker interference detected!
Wikia is a free-to-use site that makes money from advertising. We have a modified experience for viewers using ad blockers

Wikia is not accessible if you've made further modifications. Remove the custom ad blocker rule(s) and the page will load as expected.