Jon Jones
Born
July 19, 1987
Rochester, New York
Nationality
American
Nickname
Bones
Residence
Ithaca, New York
Physical stats
Listed height
6 ft 4 in (1.93 m)
Listed weight
205 lbs (93 kg)
Reach
84 inches
Mixed Martial Arts career
Division
Light Heavyweight
Style
Wrestling, Muay Thai
Fighting out of
Albuquerque, New Mexico
Trained by
Greg Jackson,
Rashad Evans
Team
Jackson's Mixed Martial Arts
Organization
UFC
Years active
2008-present
Jonathan D. Jones (born July 19, 1987) is an African American mixed martial arts fighter. He currently fights as a Light heavyweight in the Ultimate Fighting Championship and initially trained with Team BombSquad out of Cortland, New York, then briefly with the Tristar Gym in Montreal, Canada and most recently started training at Jackson's Mixed Martial Arts in Albuquerque, New Mexico.[1] Jon Jones is the current UFC Light Heavyweight champion.
Biography
Jones was born in Rochester, New York, though he was raised in Endicott, New York and considers it to be his hometown.[2] His two brothers, Arthur and Chandler, are defensive linemen at Syracuse Orange football Syracuse University. After the 2008 season, Arthur made the All- Big East Conference First Team and was an College Football All-America Team All-America candidate.[3] Jon was a 2005 state wrestling champion while a senior at Union-Endicott High School and a national Junior College Champion at Iowa Central Community College where he earned his Associate's degree.[4] Jones planned on getting a higher degree in Criminal Justice and pursuing a career in Law enforcement agency Law Enforcement, but after spending a semester in Morrisville State College,[5] he signed a four-fight contract with the UFC, making him the youngest UFC fighter on roster at that time.[6] He is notable for having a long reach for his height and weight, at 84.5 inches.
Mixed Martial Arts
Early career
Jones began his MMA career in 2008. He won his first 7 bouts and claimed the USKBA Light Heavyweight championship in the process. All 7 victories were finishes.
Ultimate Fighting Championship
Jones's UFC debut was against Andre Gusmao at UFC 87 on August 9, 2008. Jones took the fight on three weeks notice as a late replacement for Tomasz Drwal. He put on an impressive performance using takedowns and displayed some unorthodox striking, such as spinning elbows and a spinning back kick. Even though he came into the fight widely regarded as a heavy underdog, Jones was rewarded with a unanimous decision victory.[7][8]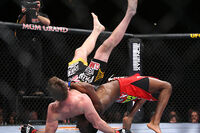 In his second fight, Jones fought veteran Stephan Bonnar at UFC 94 on January 31, 2009. Jones showed superior wrestling abilities and made Bonnar the victim of many strong takedowns and powerful throws including a suplex. Again showing unorthodox striking, Jones dropped Bonnar with a spinning back elbow in the first round. Although he appeared to tire in the third round, Jones held on to win another unanimous decision victory.[9][10]
His third fight was against Jake O'Brien at UFC 100[11] on July 11, 2009. Jones controlled the majority of the fight, preferring not to grapple and stuffing any takedown attempts from his opponent. Jones stayed on the outside, exercising his reach advantage and seemed to find his range toward the end of the first round with his right jab and high and low kicks. Midway through the second round Jones ducked and spun to deliver his trademark spinning back elbow which skimmed the top of O'Brien's head and rocked him into immediately grappling to try and regain composure. Jones capitalized on the flustered state of O'Brien by taking his neck and locking in a modified guillotine choke which rendered his opponent unconscious even after he tapped.
On December 5, 2009 Jones faced off against fellow Light Heavyweight prospect Matt Hamill at The Ultimate Fighter: Heavyweights Finale. Jones was controversially[12] disqualified for the use of multiple illegal 12-6 elbows. Several of the elbows were deemed illegal elbows (the modified rules of mixed martial arts prohibit downward elbow strikes) and because of these elbows Jones was initially only penalized a point from the round. However, because Hamill could not continue, Jones was disqualified for these strikes.
Consequently, the tape was reviewed and showed that Jones' elbows further damaged Hamill's already bloody and partially broken nose.[13][14] This also marked the first time that Nevada has used its recently-enacted instant replay rule, in which the referee's decision was supported by the commission which utilized a slow motion replay to review the elbows.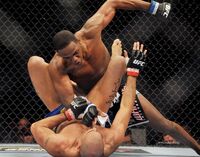 Jones fought Brandon Vera on March 21, 2010 at UFC Live: Vera vs. Jones. He won the fight by TKO (elbows and punches) in round one. The first elbow in the flurry broke the orbital bone of Vera.[15].[16]
On August 1, 2010, Jon Jones faced Vladimir Matyushenko at UFC Live: Jones vs. Matyushenko in San Diego, California. Jones finished the fight 2 minutes into round one with elbows from the crucifix position.[17]
In his next bout Jones took on The Ultimate Fighter 8 winner Ryan Bader at UFC 126. Jones dominated the fight everywhere before submitting Bader with a Guillotine Choke late in round 2.[18]
Winning the title
Jones was rewarded the title shot and faced Mauricio Rua at UFC 128. Jones controlled the fight with unique striking, a heavy top game and lots of takedowns. In round three, Jones threw a left hook to the body, followed by a knee that dropped Rua to the canvas, the fight was stopped and Jones became the youngest UFC champion in history.[19]
Jones's first title defense was against PRIDE superstar Quinton Jackson. In this fight "Rampage" was unable to close the distance against the champ and was forced to play Jones's game, at 1:14 in round four, Jones secured a Rear Naked Choke and finished the fight in dominant fashion.[20] On December 10, 2011, Jones fought former UFC Light Heavyweight champion Lyoto Machida at UFC 141. Machida had success early in the fight by sticking and moving and avoiding Jones's spinning attacks, Lyoto was able to land a straight right hand that stumbled the champion, however Jones recovered quickly and continued into round two. In round two Jones got a standing Guillotine Choke on Machida and choked him unconscious, being the only man to submit Lyoto Machida.[21]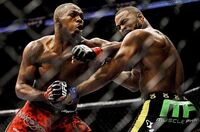 Jones's next bout was a highly anticipated grudge match between former friend and training partner Rashad Evans at UFC 145 in Atlanta, Georgia. Evans was unable to do anything to the champion and stayed in the outside getting picked apart by the champion Jones, Jones won the fight by unanimous decision.[22]
On September 22, 2012, Jones defended his Light Heavyweight strap against dangerous Brazilian striker Vitor Belfort. Belfort almost finished Jones with a Armbar in round one, but that was all Vitor was able to do, Jones picked Belfort apart with kicks to the body and took Belfort down at will. Jones submitted Belfort with a Keylock in round four.[23]
Jones's next title defense was against wrestler Chael Sonnen at UFC 159, Jones severely injured his big toe early in round one, Jones finished the fight with ground-and-pound late in round one. Had Jones not finished the fight, it would be likely that he would not be able to continue into round two and Chael Sonnen would become champion.[24] In his next fight Jones fought Swede Alexander Gustafsson, the fight was back and fourth and many considered it to be "the greatest UFC fight ever". Jones won a controversial unanimous decision.[25]
Jones was expected to face Glover Teixeira on February 1, 2014 at UFC 169.[26] However on October 7, UFC President Dana White stated the announcement for this fight on that card was premature and that Jones and Teixeira would face each other on a different card.[27] On November 13, 2013 it was announced that Jones would defend his title against Glover Teixeira at UFC 170, the match was scheduled for February 22, 2014, however on November 14, 2013 it was announced that the match had been scratched from the card.[28][29] On December 4, 2013 it was announced that Jones and Teixeira would finally face each other at UFC 171 on March 15, 2014 in Dallas, Texas.[30] Jones and Teixeira is now expected to take place on April 26, 2014 at UFC 172.[31] When the fight took place, Jones won a dominant unanimous decision, using elbows to cut up and bruise Teixeira over the course of 5 rounds. The win over Teixeira marked Jones' 7th consecutive title defense.[32][33]
Personal life
Jon is engaged and has a daughter named Leah, who was born on July 11, 2008. He believes that being in a committed relationship helps him stay focused on his training. The couple had their second daughter, Carmen Nicole Jones in December 2009. Additionally, Jones has indicated that his favorite historical figure is Teddy Roosevelt. On March 19, 2011, Jones was en route to Great Falls Historic Park in Paterson, New Jersey, where he planned to meditate several hours ahead of his fight against Maurício "Shogun" Rua at UFC 128. He was accompanied by his coaches Mike Winkeljohn and Greg Jackson. As their driver prepared to drop them off, Jones observed an elderly couple screaming for help. The woman informed Winkeljohn that a man had smashed her car window and had run off with her GPS. Jones, along with his two coaches, chased after the robber, caught and tripped him, and held him down until the police arrived. On May 19, 2012, Jones crashed his bentley into a pole in binghampton, New York. Jones was arrested for driving under the influence and was bailed out by his mother a few hours later. Jones pled guilty for DUI charges and will not serve any more time.
Mixed martial arts record
Professional record breakdown
5 
0 wins
0 losses
By knockout
9
0
By submission
6
0
By decision
4
0
By disqualification
0
1
| Result | Record | Opponent | Method | Event | Date | Round | Time | Location | Notes |
| --- | --- | --- | --- | --- | --- | --- | --- | --- | --- |
| Win | 22-1 | Ovince Saint Preux | Decision (unanimous) | UFC 197 | April 23, 2016 | 5 | 5:00 | Las Vegas, Nevada, United States | Won the interim UFC Light Heavyweight Championship. |
| Win | 21-1 | Daniel Cormier | Decision (unanimous) | UFC 182 | January 3, 2015 | 5 | 5:00 | Las Vegas, Nevada, United States | Retained the UFC Light Heavyweight Championship. Fight of the Night. Later stripped due to hit and run incident. |
| Win | 20–1 | Glover Teixeira | Decision (unanimous) | UFC 172 | April 26, 2014 | 5 | 5:00 | Baltimore, Maryland, United States | Defended the UFC Light Heavyweight Championship |
| Win | 19–1 | Alexander Gustafsson | Decision (unanimous) | UFC 165 | September 21, 2013 | 5 | 5:00 | Toronto, Ontario, Canada | Defended the UFC Light Heavyweight Championship; Fight of the Night; Fight of the Year |
| Win | 18–1 | Chael Sonnen | TKO (elbows and punches) | UFC 159 | April 27, 2013 | 1 | 4:33 | Newark, New Jersey, United States | Defended the UFC Light Heavyweight Championship |
| Win | 17–1 | Vitor Belfort | Submission (keylock) | UFC 152 | September 22, 2012 | 4 | 0:54 | Toronto, Ontario, Canada | Defended the UFC Light Heavyweight Championship; Submission of the Night |
| Win | 16–1 | Rashad Evans | Decision (unanimous) | UFC 145 | April 21, 2012 | 5 | 5:00 | Atlanta, Georgia, United States | Defended the UFC Light Heavyweight Championship |
| Win | 15–1 | Lyoto Machida | Technical Submission (guillotine choke) | UFC 140 | December 10, 2011 | 2 | 4:26 | Toronto, Ontario, Canada | Defended the UFC Light Heavyweight Championship; Fight of the Night |
| Win | 14–1 | Quinton Jackson | Submission (rear-naked choke) | UFC 135 | September 24, 2011 | 4 | 1:14 | Denver, Colorado, United States | Defended the UFC Light Heavyweight Championship; Fight of the Night |
| Win | 13–1 | Maurício Rua | TKO (punches and knees) | UFC 128 | March 19, 2011 | 3 | 2:37 | Newark, New Jersey, United States | Won the UFC Light Heavyweight Championship |
| Win | 12–1 | Ryan Bader | Submission (guillotine choke) | UFC 126 | February 5, 2011 | 2 | 4:20 | Las Vegas, Nevada, United States | Submission of the Night |
| Win | 11–1 | Vladimir Matyushenko | TKO (elbows) | UFC Live: Jones vs. Matyushenko | August 1, 2010 | 1 | 1:52 | San Diego, California, United States | |
| Win | 10–1 | Brandon Vera | TKO (elbows and punches) | UFC Live: Vera vs. Jones | March 21, 2010 | 1 | 3:19 | Broomfield, Colorado, United States | Knockout of the Night |
| Loss | 9–1 | Matt Hamill | DQ (illegal elbows) | The Ultimate Fighter 10 Finale | December 5, 2009 | 1 | 4:14 | Las Vegas, Nevada, United States | Jones was disqualified for 12-6 Elbow |
| Win | 9–0 | Jake O'Brien | Submission (guillotine choke) | UFC 100 | July 11, 2009 | 2 | 2:43 | Las Vegas, Nevada, United States | |
| Win | 8–0 | Stephan Bonnar | Decision (unanimous) | UFC 94 | January 31, 2009 | 3 | 5:00 | Las Vegas, Nevada, United States | |
| Win | 7–0 | André Gusmão | Decision (unanimous) | UFC 87 | August 9, 2008 | 3 | 5:00 | Minneapolis, Minnesota, United States | |
| Win | 6–0 | Moyses Gabin | TKO (punches) | Battle Cage Xtreme 5 | July 12, 2008 | 2 | 1:58 | Atlantic City, New Jersey, United States | Won the USKBA Light Heavyweight Championship |
| Win | 5–0 | Parker Porter | TKO (punches) | World Championship Fighting 3 | June 20, 2008 | 1 | 0:36 | Wilmington, Massachusetts, United States | |
| Win | 4–0 | Ryan Verrett | TKO (punches) | USFL: War in the Woods 3 | May 9, 2008 | 1 | 0:14 | Ledyard, Connecticut, United States | |
| Win | 3–0 | Anthony Pina | Submission (guillotine choke) | Ice Fighter | April 25, 2008 | 1 | 1:15 | Worcester, Massachusetts, United States | |
| Win | 2–0 | Carlos Eduardo | TKO (punches) | Battle Cage Xtreme 4 | April 19, 2008 | 3 | 0:24 | Atlantic City, New Jersey, United States | |
| Win | 1–0 | Brad Bernard | TKO (punches) | FFP: Untamed 20 | April 12, 2008 | 1 | 1:32 | Boxborough, Massachusetts, United States | |
References
External links