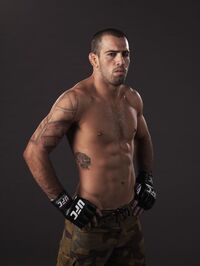 Cleuder F. Assunção is a mixed martial arts fighter. He competes in the lightweight division. Originally from Northeastern Brazil, Junior grew up in Miami, and now resides in Atlanta. He is also the older brother of Rafael Assuncao and Freddy Assunção who also fight as a mixed martial artists.
UFC veteran, Junior Assuncāo, has earned black belts in Brazilian Jiu-Jitsu and Capoeira and has been a coach for over nine years.
He is the head instructor at ASCENSION MMA in Atlanta, GA. His professional MMA career has led to extensive training in these disciplines as well as in Boxing , Judo, Muay Thai, and Wrestling. He has trained out of Black House (Casa Preta) gym in Brazil with the likes of MMA powerhouses Anderson Silva and Lyoto Machida.
Junior's martial arts foundation is in Capoeira, a Brazilian fight system characterized by acrobatic sweeps, kicks, and head butts that rely heavily on core strength. Having trained under Mestre Delei for 12 years, Junior credits his success in the combat sports to this discipline. As an instructor, Junior incorporates many techniques from Capoeira, such as agility, balance, and practical strength. He also has coached at Combat Sports Center in Richmond, VA. He is represented by Suckerpunch Entertainment.
Mixed martial arts record
Edit
Professional record breakdown
19 
10 wins
4 losses
By knockout
1
0
By submission
6
2
By decision
3
2
Result
Record
Opponent
Method
Event
Date
Round
Time
Location
Notes
Win
10-4
John Mahlow
Submission (Guillotine Choke)
XFC 10: Night of Champions

March 19, 2010

1
4:02
Florida, United States
For the XFC Lightweight Championship
Win
9-4
Pete Grimes
Decision (Split)
ShineFights 2

September 4, 2009

3
5:00
Florida, United States
Win
8-4
Kamrin Naville
Decision (Unanimous)
KOTC - Invincible

March 27, 2009

3
3:00
Georgia, United States
Win
7-4
Kalvin Hackney
Decision (Unanimous)
Wild Bill's Full Throttle

November 8, 2008

3
5:00
Georgia, United States
Loss
6-4
Torrance Taylor
Decision (Unanimous)
AFL - Bulletproof

May 30, 2008

3
5:00
Georgia, United States
Win
6-3
Steve Sharp
Submission (Guillotine Choke)
AFL - Erupption

March 7, 2008

3
4:26
Kentucky, United States
Loss
5-3
Nathan Diaz
Submission (Guillotine Choke)
UFC Fight Night 11

September 19, 2007

1
4:10
Nevada, United States
Win
5-2
David Lee
Submission (Rear Naked Choke)
UFC 70: Nations Collide

April 21, 2007

2
1:55
United Kingdom
Loss
4-2
Kurt Pellegrino
Submission (Rear Naked Choke)
UFC 64: Unstoppable

October 14, 2006

1
2:04
Nevada, United States
UFC debut
Win
4-1
Scott Hope
Submission (Strikes)
ISCF - Knuckle Up 4

April 28, 2006

1
1:43
Georgia, United States
Win
3-1
Dustin Hazelett
TKO (Punches)
FT 3 - Full Throttle 3

July 15, 2005

1
4:27
Georgia, United States
Win
2-1
Danny Payne
Submission (Rear Naked Choke)
FT 2 - Full Throttle 2

June 3, 2005

1
0:50
Georgia, United States
Win
1-1
Will Bradford
Submission (Guillotine Choke)
ISCF - Compound Fracture 2

February 4, 2005

1
1:55
Georgia, United States
Loss
0-1
Andrew Chappelle
Decision (Unanimous)
ISCF - Fight Party

April 23, 2004

3
3:00
Georgia, United States
External links
Edit
Ad blocker interference detected!
Wikia is a free-to-use site that makes money from advertising. We have a modified experience for viewers using ad blockers

Wikia is not accessible if you've made further modifications. Remove the custom ad blocker rule(s) and the page will load as expected.