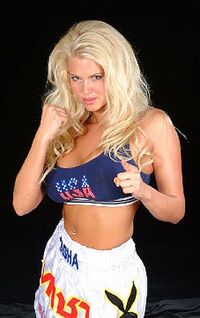 LaTasha Marzolla (born on August 21, 1979) is an American Mixed martial arts fighter and kickboxer currently competing for Tuff-N-Uff Amateur Fighting Championships. She is noted for being a former Playboy glamour model.[1]
Early life
Edit
Marzolla attended Las Vegas High where she participated with their junior varsity wrestling team. She decided to learn self-defense after her house was robbed and enrolled in Muay Thai with Master Toddy.[2]
She has appeared in several Playboy Special Editions series and was chosen as the 2004 Model of the Year.[3]
Kickboxing & Wrestling careers
Edit
Marzolla pursued a career with the professional full-contact kickboxing promotion K-1 under the nickname of Venus. She has a kickboxing record of 9-3.[4] In 2004, she also had a brief career in professional wrestling after signing with WWE to train in Ohio Valley Wrestling. She was released along with a fellow model Bobbi Billard due to injuries.[5]
Along with Gina Carano, she appears in the 2005 quasi-documentary Ring Girls which is about five women who, under Muay Thai trainer Master Toddy, fight in Las Vegas and Thailand.[6]
Mixed Martial Arts career
Edit
LaTasha currently trains at Xtreme Couture in Las Vegas and was formerly under trainer Shawn Tompkins.[7][8] On May 30, 2009 she made her MMA debut, defeating Christy Tada by corner stoppage at the end of round 1 in a Tuff-N-Uff event in Las Vegas.[9]
Personal life
Edit
Latasha has a younger brother named Michael.[2] She has two children, a son and a daughter.[7]
Amateur mixed martial arts record
Edit
Professional record breakdown
7 
2 wins
0 losses
By knockout
1
0
By submission
0
0
By decision
1
0
| Result | Record | Opponent | Method | Event | Date | Round | Time | Location | Notes |
| --- | --- | --- | --- | --- | --- | --- | --- | --- | --- |
| Win | 2-0 | Kate McGray | Unanimous decision | Tuff-N-Uff | November 27, 2009 | 3 | 2:00 | Las Vegas, Nevada | |
| Win | 1-0 | Christy Tada | TKO | Tuff-N-Uff | May 30, 2009 | 1 | 2:00 | Las Vegas, Nevada | MMA debut |
References
Edit
External links
Edit
Ad blocker interference detected!
Wikia is a free-to-use site that makes money from advertising. We have a modified experience for viewers using ad blockers

Wikia is not accessible if you've made further modifications. Remove the custom ad blocker rule(s) and the page will load as expected.