Welcome to the Mixed Martial Arts Wiki
The Mixed Martial Arts encyclopedia.
Warning: this Wiki may contain spoilers. Read at your own risk.
Portals
Featured article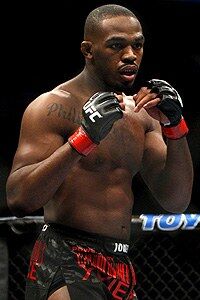 Jonathan D. Jones (born July 19, 1987) is an African American mixed martial arts fighter. He currently fights as a Light heavyweight in the Ultimate Fighting Championship and initially trained with Team BombSquad out of Cortland, New York, then briefly with the Tristar Gym in Montreal, Canada and most recently started training at Jackson's Mixed Martial Arts in Albuquerque, New Mexico. Jon Jones is the current UFC Light Heavyweight champion.
Featured video
Ad blocker interference detected!
Wikia is a free-to-use site that makes money from advertising. We have a modified experience for viewers using ad blockers

Wikia is not accessible if you've made further modifications. Remove the custom ad blocker rule(s) and the page will load as expected.