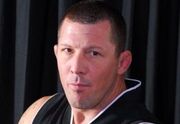 Patrick Jay Miletich, also known The Croatian Sensation, is a American-born mixed martial artist (MMA) well known for his fights within the Ultimate Fighting Championship (UFC). He is the founder of Miletich Fighting Systems, which has trained a number of famous fighters in MMA, including 90 fighters who have made it on television and 15 organizational world champions such as former UFC Welterweight Champion Matt Hughes, former UFC Heavyweight Champion Tim Sylvia, former UFC Lightweight Champion Jens Pulver, as well as former ICON Sport and Elite XC middleweight champion Robbie Lawler, Mark Coleman, Jeremy Horn and Dave Menne. Miletich is now providing color commentary for Strikeforce events that are broadcast on Showtime sports. He is also a regular on ESPN 2's MMA Live. Miletich has trained law enforcement and military groups for 15 years. He has trained every branch of the military including many special warfare groups attached to those military branches.
Ad blocker interference detected!
Wikia is a free-to-use site that makes money from advertising. We have a modified experience for viewers using ad blockers

Wikia is not accessible if you've made further modifications. Remove the custom ad blocker rule(s) and the page will load as expected.