"Ring girl" is the common term for a woman who enters the ring, or octagon, between rounds of a combat sport event such as boxing, kickboxing, or mixed martial arts, carrying a sign that displays the number of the upcoming round. An MMA promotion's roster of ring girls may also appear at organizational events, such as autograph signings, event announcements, weigh-in's, news conferences, and any other number of other venues which help to publicize their specific promotion to the world. Read more...
edit

</div>  Featured article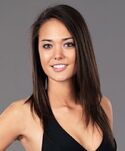 Create new articles on individual ring girls
Make sure that articles on ring girls are properly categorized
Add appropriate, MMA-related images to ring girl articles that need them
Add to this list as needed!
Ad blocker interference detected!
Wikia is a free-to-use site that makes money from advertising. We have a modified experience for viewers using ad blockers

Wikia is not accessible if you've made further modifications. Remove the custom ad blocker rule(s) and the page will load as expected.