Pride 23
Event information
Promotion
Date

November 24, 2002

Venue
City

Tokyo, Japan

Previous event
Following event
Other information
Pride 23: Championship Chaos 2 was a mixed martial arts event held by Pride Fighting Championships. It took place at the Tokyo Dome in Tokyo, Japan on November 24, 2002.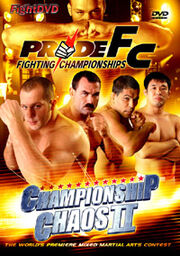 Jerrel Venetiaan vs.
Hirotaka Yokoi
Hirotaka Yokoi won by Submission (Armbar) over Jerrel Venetiaan at 3:29 in the second round.
Kevin Randleman vs.
Kenichi Yamamoto
Kevin Randleman defeated Kenichi Yamamoto by TKO (Knees) 1:16 into the third round.

Ricardo Arona vs.

Murilo "Ninja" Rua
In a war between rival academies Brazilian Top Team and Chute Boxe, Ricardo Arona won a three-round unanimous decision over Murilo "Ninja" Rua.

Fedor Emelianenko vs.
Heath Herring
Fedor Emelianenko established himself as the #1 contender to the Pride Heavyweight Championship by defeating Heath Herring via TKO. After the end of Round 1, the doctors stopped the fight due to excessive damage to Herring's face.

Antonio Rodrigo Nogueira vs.

Semmy Schilt
Pride Heavyweight Champion Antonio Rodrigo Nogueira was victorious in a non-title match, forcing Semmy Schilt to submit via triangle choke 6:36 into the first round.
1992 Olympic Judo gold medalist Hidehiko Yoshida made his mixed martial arts debut, defeating MMA veteran Don Frye at 5:32 in the first round due to submission (armbar)
Nobuhiko Takada vs.
Kiyoshi Tamura
Kiyoshi Tamura knocked out Nobuhiko Takada (having his retirement fight) one minute into the second round.

Gilles Arsene vs.
Kazushi Sakuraba
Sakuraba defeated Arsene via armbar at 2:08 into the third round.
Pride FC Middleweight Championship:
Hiromitsu Kanehara vs.

Wanderlei Silva
External links
Edit
Ad blocker interference detected!
Wikia is a free-to-use site that makes money from advertising. We have a modified experience for viewers using ad blockers

Wikia is not accessible if you've made further modifications. Remove the custom ad blocker rule(s) and the page will load as expected.