Pride 29
Event information
Promotion
Date

February 20, 2005

Venue
City

Saitama, Japan

Previous event
Following event
Other information
Pride 29: Fists of Fire, also billed as Survival, was a mixed martial arts event held by the Pride Fighting Championships. The event took place on February 20, 2005 at Saitama Super Arena in Saitama, Japan.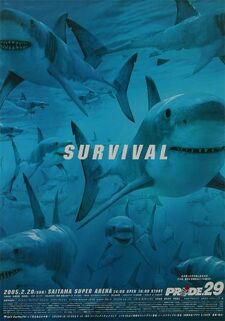 Mario Sperry vs
Hirotaka Yokoi
Mario Sperry defeats Hirotaka Yokoi by technical knockout at 9:08 of Round 1.
Tom Erikson vs

Fabricio Werdum
Fabricio Werdum defeats Tom Erikson by submission (Rear naked choke) at 5:30 of Round 1.
Hiromitsu Kanehara vs

Mauricio Rua
Mauricio Rua defeats Hiromitsu Kanehara by technical knockout at 1:40 of Round 1.
Yoshiki Takahashi vs
Igor Vovchanchyn
Igor Vovchanchyn defeats Yoshiki Takahashi by knockout at 1:10 of Round 1.

Stefan Leko vs
Kazuhiro Nakamura
Kazuhiro Nakamura defeats Stefan Leko by technical knockout at 0:54 of Round 1.

Mu Bae Choi vs

Sergei Kharitonov
Sergei Kharitonov defeats Mu Bae Choi by knockout at 3:24 of Round 1.

Aliev Makhmud vs
Kiyoshi Tamura
Kiyoshi Tamura defeats Aliev Makhmud by TKO at 5:09 of Round 1.

Antonio Rogerio Nogueira vs

Alistair Overeem
Antonio Rogerio Nogueira defeats Alistair Overeem by unanimous decision.
Quinton Jackson defeats Murilo Rua by split decision. This decision did not seem to reflect the events of the match. Jackson appeared embarrassed with the result and attempted to offer the winner's trophy to Rua following the decision.
Mark Coleman vs
Mirko Filipović
Mirko Filipović defeats Mark Coleman by knockout at 3:42 of Round 1.
External links
Edit
Ad blocker interference detected!
Wikia is a free-to-use site that makes money from advertising. We have a modified experience for viewers using ad blockers

Wikia is not accessible if you've made further modifications. Remove the custom ad blocker rule(s) and the page will load as expected.