Pride 34
Event information
Promotion
Date

April 8, 2007

Venue
City

Saitama, Japan

Previous event
Following event

–

Other information
Pride 34: Kamikaze was a mixed martial arts event held by Pride Fighting Championships on April 8, 2007 at the Saitama Super Arena in Saitama, Japan. This was the last Pride show promoted by Dream Stage Entertainment before the sale of the company (see Pride Worldwide).
Background
Edit
Although Wanderlei Silva and Mauricio Rua were negotiating with Pride to compete, Silva did not participate because of a medical suspension received from the Nevada State Athletic Commission. The commission had stated that if a Japanese doctor cleared Silva for competition, they would consider lifting the suspension three days early, but this did not come to fruition. Gilbert Yvel was originally slated to fight Bazigit Atajev, but Atajev withdrew due to an internal disease.
Prior to Pride 34 Nobuyuki Sakakibara stated that he had a "surprise announcement" which he would release during the event. This announcement turned out to be a guest appearance by Kazushi Sakuraba who had left Pride nearly a year prior to join rival promotion HERO'S. Kiyoshi Tamura joined Sakakibara in the ring and teased a potential matchup in a future Pride event. Sakuraba had initially expressed his wish to fight either Wanderlei Silva or Kiyoshi Tamura on the card but in the end neither fight materialized.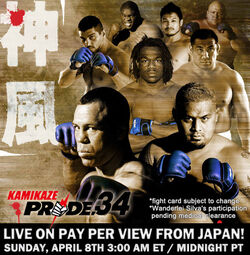 Yoshihiro Nakao def.

Edson Drago
Nakao submitted Drago at 9:51 in the first round with a neck crank.
Eric "Butterbean" Esch def.

Wagner "Zuluzinho" da Conceição Martins
Esch submitted da Conceição Martins at 2:35 in the first round with a keylock.
Makoto Takimoto def.
Zelg Galesic
Takimoto submitted Galesic at 5:40 in the first round with a Straight armlock.

Gilbert Yvel def.
Akira Shoji
Yvel defeated Shoji at 3:04 in the first round by technical knockout.
James Thompson def.
Don Frye
Thompson defeated Frye at 6:23 in the first round by technical knockout.
Shinya Aoki def.

Brian Lo-An-Joe
Aoki submitted Lo-An-Joe at 1:33 in the first with an armbar.

Rameau Thierry Sokoudjou def.

Ricardo Arona
Sokoudjou defeated Arona at 1:59 in the first round by knockout.
Jeff Monson def.
Kazuyuki Fujita
Monson submitted Fujita at 6:47 in the first round with a rear naked choke.
External links
Edit
Ad blocker interference detected!
Wikia is a free-to-use site that makes money from advertising. We have a modified experience for viewers using ad blockers

Wikia is not accessible if you've made further modifications. Remove the custom ad blocker rule(s) and the page will load as expected.