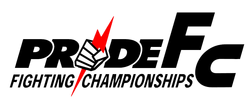 Pride Fighting Championships, commonly referred to as simply Pride or Pride FC for short, and also seen in stylized capital letters as PRIDE, was a mixed martial arts organization based in Japan. Its inaugural event was held at the Tokyo Dome on October 11, 1997. Pride held more than sixty mixed martial arts events. As one of the most popular MMA organizations in the world during its ten years of operation, Pride broadcast to about forty countries worldwide. Pride also held the largest live MMA event audience record of over 70,000 people at the Pride and K-1 co-production, Shockwave/Dynamite, held in August 2002, as well as the audience record of over 67,450 people at the Pride Final Conflict 2003.
In March 2007, Dream Stage Entertainment sold Pride to Lorenzo Fertitta and Frank Fertitta III, co-owners of Zuffa, which owns rival promotion the Ultimate Fighting Championship (UFC). While remaining legally separate entities with separate managements, the two promotions were set to cooperate in future events. However, such an arrangement did not materialize, and in October 2007, Pride Worldwide's Japanese staff was laid off, marking the end of the organization as an active fight promoter. As a result many of the Pride staff left to form a new organization alongside K-1 parent company Fighting and Entertainment Group. This new organization founded in February 2008 is entitled DREAM.
Ad blocker interference detected!
Wikia is a free-to-use site that makes money from advertising. We have a modified experience for viewers using ad blockers

Wikia is not accessible if you've made further modifications. Remove the custom ad blocker rule(s) and the page will load as expected.