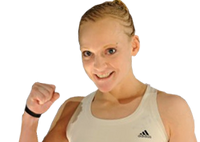 Sally Krumdiack (born November 17, 1982) is an American female professional mixed martial artist. She is currently the Freestyle Cage Fighting Women's Super Flyweight (125-Pound) Champion.
She primarily works as a personal trainer and competes in MMA part-time.
MMA career
Edit
Krumdiack debuted in mixed martial arts on October 6, 2006 at Extreme Wars 5 and defeated Brittany Pullen by TKO six seconds into the second round. On November 18, 2006, Krumdiack faced Jessica Pene at a HOOKnSHOOT event and was submitted late in the first round.
Krumdiack faced Allison Duckworth at FFF 3 - War of the Roses on November 3, 2007. She won the fight by unanimous decision.[1]
Krumdiack faced Jamie Lynn Welsh at FFF 4 - Call of the Wild on April 3, 2008. She won the fight by unanimous decision.[2]
This set up a fight with highly-regarded former BodogFight champion Tara LaRosa at Extreme Challenge: "Mayhem at the Marina" on March 28, 2009. In a very competitive bout, Krumdiack eventually succumbed to a Kimura 1:45 into the third round.
Following a victory over Brandy Nerney, Krumdiack debuted in Freestyle Cage Fighting and captured the promotion's 125-pound women's title with a Unanimous Decision victory over Nicdali Rivera-Calanoc.
Krumdiack was invited to travel to Japan to compete for the all-female Jewels promotion at Jewels: "Sixth Ring" on December 11, 2009. She faced top Jewels star Saori Ishioka, but was controversially defeated when the referee mistakenly believed that Krumdiack had verbally submitted to an armbar. Krumdiack's camp launched an appeal, but despite confirmation of the error from ringside officials, the result has not been overturned.[3]
MMA record
Edit
Professional record breakdown
12 
7 wins
3 losses
By knockout
1
0
By submission
2
3
By decision
4
0
Draws
0
Result
Opponent
Method
Event Title
Date
Round
Time
Notes
Loss
Saori Ishioka
Technical Submission (Armbar)
Jewels - Sixth Ring
12/11/09
1
2:45
Win
Nicdali Rivera-Calanoc
Decision (Unanimous)
FCF - Freestyle Cage Fighting
10/24/09
3
5:00
Won FCF Women's Super Flyweight Championship
Win
Brandy Nerney
Decision (Unanimous)
LMMA 2 - Lightning at Legends
6/6/09
3
5:00
Loss
Tara LaRosa
Submission (Kimura)
Extreme Challenge: Mayhem at the Marina
3/28/09
3
1:45
Win
Valerie Coolbaugh
Submission (Armbar)
MAX - MMA
6/28/08
1
N/A
Win
Jamie Lynn Welsh
Decision (Unanimous)
FFF 4: Call Of The Wild
4/3/08
3
3:00
Win
Wendy Roy
Submission (Choke)
All Martial Arts 2
3/15/08
2
2:27
Win
Allison Duckworth
Decision (Unanimous)
FFF 3: War Of The Roses
11/3/07
3
3:00
Loss
Jessica Pene
Submission
(Arm-Triangle Choke)
HOOKnSHOOT: The Women Return
11/18/06
1
4:20
Win
Brittany Pullen
TKO (Punches)
Extreme Wars 5: Battlegrounds
10/26/06
2
0:06
Championships
Edit
Freestyle Cage Fighting Women's Super Flyweight Champion
References
Edit
External links
Edit
Ad blocker interference detected!
Wikia is a free-to-use site that makes money from advertising. We have a modified experience for viewers using ad blockers

Wikia is not accessible if you've made further modifications. Remove the custom ad blocker rule(s) and the page will load as expected.