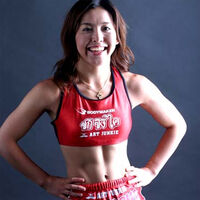 Template:Nihongo is a female Japanese mixed martial arts fighter.
She specializes in Judo, Sambo and jiu-jitsu and is known for using a variety of armbars to submit her opponents.
Shinashi's record in MMA is 29-2-2, with her lone losses coming via knockout against Hisae Watanabe in a DEEP Women's Lightweight Championship bout and against Mai Ichii via Majority Decision.
She captured the DEEP Women's Flyweight (99-Pound) Championship by winning a one-night tournament at DEEP: 34th Impact on February 22, 2008.
Personal life
Edit
Shinashi was married in September 2007 and gave birth to her first child, a son, on July 5, 2009.[1]
MMA record
Edit
Professional record breakdown
35 
29 wins
2 losses
By knockout
0
1
By submission
23
0
By decision
6
1
Draws
2
Result
Opponent
Method
Event
Date
Round
Time
Win
Yukiko Seki
Submission (Armbar)
DEEP - 38th Impact
10/23/2008
1
1:32
Loss
Mai Ichii
Decision (Majority)
DEEP - 35th Impact
5/19/2008
2
5:00
Win
Sachiko Yamamoto
Submission (Armbar)
DEEP - 34th Impact
2/22/2008
1
2:58
Win
Fukuko Hamada
Decision (Unanimous)
DEEP - 34th Impact
2/22/2008
2
5:00
Win
Akemi Morihara
Submission (Heel Hook)
Smackgirl - Starting Over
12/26/2007
1
4:17
Win
Sachiko Yamamoto
Submission (Armbar)
DEEP - 32nd Impact
10/10/2007
1
3:11
Win
Misaki Takimoto
Decision (Split)
Smackgirl - Will The Queen Paint
The Shinjuku Skies Red?
3/11/2007
3
5:00
Win
Tae Kyung Kim
Submission (Armbar)
DEEP - 27th Impact
12/20/2006
1
4:16
Win
Yuka Okumura
Submission (Armbar)
HEAT - HEAT 2
9/23/2006
1
0:45
Loss
Hisae Watanabe
KO (Punch)
DEEP - 25th Impact
8/4/2006
1
3:54
Win
Shiho Yamato
Submission (Armbar)
DEEP - 24th Impact
4/11/2006
2
2:20
Win
Naoko Ohmuro
Decision (Unanimous)
Smackgirl - Lightweight Anniversary
11/29/2005
3
5:00
Win
Noriko Okamoto
Submission (Armbar)
DEEP - 20th Impact
9/3/2005
1
0:48
Win
Mari Kaneko
Decision (Unanimous)
DEEP - 19th Impact
7/8/2005
2
5:00
Win
Pamela Vitz
Submission (Armbar)
Shooto 2005 - 5/4 in Korakuen Hall
5/4/2005
1
2:13
Draw
Mari Kaneko
Draw
DEEP - 18th Impact
2/12/2005
2
5:00
Win
Supannipa Chutipanyo
Submission (Armbar)
DEEP - 16th Impact
10/30/2004
1
0:20
Win
Su Jeong Sim
Technical Submission (Armbar)
DEEP - 15th Impact
7/3/2004
1
2:50
Win
Nana Ichikawa
Submission (Heel Hook)
LI 2 - Love Impact 2
6/6/2004
1
0:45
Win
Yuki Furutachi
Submission (Armbar)
DEEP - clubDEEP Fukuoka:
Team ROKEN Festival
3/20/2004
1
1:28
Win
Kayo Nagayasu
Technical Submission (Armbar)
LI 1 - Love Impact 1
2/8/2004
1
3:17
Win
Naoko Ohmuro
Decision (Unanimous)
DEEP - 13th Impact
1/22/2004
2
5:00
Win
Misaki Takimoto
Submission (Armbar)
Smackgirl - Third Season 5
7/6/2003
1
2:03
Win
Caroline Hoeberchts
Submission (Armbar)
Smackgirl - Third Season 3
5/7/2003
1
1:52
Win
Reiko Kawae
Submission (Armbar)
Smackgirl - Third Season 2
4/2/2003
1
2:39
Win
Hisae Watanabe
Submission (Heel Hook)
Smackgirl - Japan Cup 2002
Grand Final
12/29/2002
2
0:34
Win
Maiko Ohkada
Submission (Heel Hook)
Smackgirl - Japan Cup 2002
Episode 2
11/9/2002
2
2:28
Win
Miki Katagiri
Submission (Armbar)
Smackgirl - Japan Cup 2002
Opening Round
10/5/2002
1
2:35
Win
Kinuyo Yoshizumi
Decision (Unanimous)
Smackgirl - Summer Gate 2002
8/4/2002
3
5:00
Draw
Kinuyo Yoshizumi
Draw
Shoot Boxing - S-Cup 2002
7/7/2002
3
5:00
Win
Aiko Koike
Submission (Armbar)
Smackgirl - Royal Smack 2002
4/7/2002
1
1:01
Win
Misaki Takimoto
Submission (Armbar)
Smackgirl - God Bless You
3/2/2002
1
4:32
Win
Aya Koyama
Submission (Armbar)
AX - Vol. 2: We Want To Shine
12/26/2001
1
2:29
References
Edit
External links
Edit