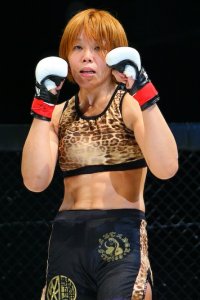 Takayo Hashi (born October 2 , 1977) is a Japanese female mixed martial artist.
She is currently the #4-ranked 135-pound female fighter in the world according to the Unified Women's MMA Rankings.[1][2]
Biography
Edit
Hashi observed her brother grappling and competing in mixed martial arts and this inspired her to compete as well.
She joined the Wajitsu Keishukai, Tokyo Honbu gym and worked as an office worker during the day.
MMA career
Edit
Hashi held the title of Smackgirl Grappling Queen in the promotion's Open-Weight division.
She competed in the Japanese Abu Dhabi (ADCC) qualifiers in 2007 and won her division. On May 6 and 7 of that year, she took third place in the official ADCC in Trenton, NJ.
Hashi suffered her only defeat to date in MMA in 2005 when she was submitted by Hitomi Akano. She has since won eight straight fights and avenged the loss to Akano in their 2007 rematch.
Hashi faced Amanda Buckner at FFF 4 - Call of the Wild on April 3, 2008. She won the fight by unanimous decision.[3] She later defeated Chisa Yonezawa at Valkyrie 2 on April 25, 2009.
Hashi was set to make her Strikeforce debut against undefeated Canadian Sarah Kaufman at Strikeforce Challengers 5 on November 20, 2009, but the fight was later removed from the card. It was first rescheduled for January 2010,[4] but finally took place on February 26, 2010.[5] The fight crowned the first Strikeforce Women's Bantamweight Champion.[6] However, Hashi lost the fight by Unanimous Decision after five rounds.[7]
MMA record
Edit
Professional record breakdown
16 
12 wins
2 losses
By knockout
0
0
By submission
4
1
By decision
8
1
Draws
0
Result
Opponent
Method
Event
Date
Round
Time
Notes
Loss
Sarah Kaufman
Decision (Unanimous)
ShoMMA 6: Kaufman vs. Hashi

February 26, 2010

5
5:00
For Strikeforce Women's Bantamweight Championship.[6]
Win
Chisa Yonezawa
Submission (Rear Naked Choke)
GCM - Valkyrie 2

April 25, 2009

2
1:43
Win
Amanda Buckner
Decision (Unanimous)
FFF 4: "Call of the Wild"

April 3, 2008

3
5:00
Win
Hitomi Akano
Decision (Unanimous)
Smackgirl - Queens' Hottest Summer

September 6, 2007

3
5:00
Win
Hee Jin Lee
Decision (Unanimous)
DEEP - CMA Festival 2

July 23, 2007

2
5:00
Win
Sybil Starr
Submission (Armbar)
Smackgirl - Will The Queen Paint
The Shinjuku Skies Red?

March 11, 2007

1
2:47
Win
Miki Morifuji
Decision (Unanimous)
Smackgirl - Legend of Extreme Women

November 29, 2006

2
5:00
Win
Kinuka Sasaki
Submission (Rear Naked Choke)
Smackgirl - Top Girl Battle

June 30, 2006

1
2:31
Win
Kazuma Morohoshi
Decision (Unanimous)
Smackgirl - Advent of Goddess

February 15, 2006

2
5:00
Loss
Hitomi Akano
Submission (Armbar)
Smackgirl - Dynamic!!

August 17, 2005

1
1:19
Win
Yukari
Decision (Unanimous)
Smackgirl - The Next Cinderella 2005 Second Stage

July 10, 2005

2
5:00
Win
Yoko Hattori
Decision (Unanimous)
Smackgirl - The Next Cinderella 2005 First Stage

April 29, 2005

2
5:00
Win
Mika Harigai
Submission (Rear Naked Choke)
Smackgirl - Yuuki Kondo
Retirement Celebration

November 4, 2004

2
4:28
Win
Natsuko Kikukawa
Decision (Unanimous)
GCM - Cross Section 2

September 4, 2004

2
5:00
References
Edit
External links
Edit